Lavanda Kawumm is a clown from the moon on her expedition to the earth
to search for the beauty in humanity. She loves lavender and her last name stands for her explosive way to be.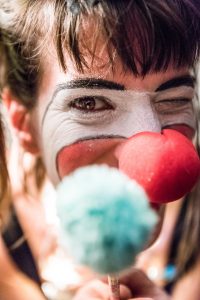 Upcoming shows:
=> read on
Latest shows:
=> read on
Lavanda tells her story, sings her songs in English, German, French and Nepali and
invites the audience to help her with her research to resurrect the hope in humanity.
Do not hesitate to invite her to your living-room, bar, cafe or theatre!
She always finds some beauty everywhere!
#singer/songwriter  #storytelling #clowntheatre #participation #performance